Should free cloud backup services be used in enterprises?
Most free enterprise cloud backup services are software-only and protect only files. To increase capabilities and support, businesses should move from 'freemium' to premium.
The cloud seems to be an ideal place to store backup data. On the surface, the concept eliminates a lot of typical backup concerns, such as ensuring data is properly stored off-site and scaling storage hardware to meet future data capacity demands.

Download this free guide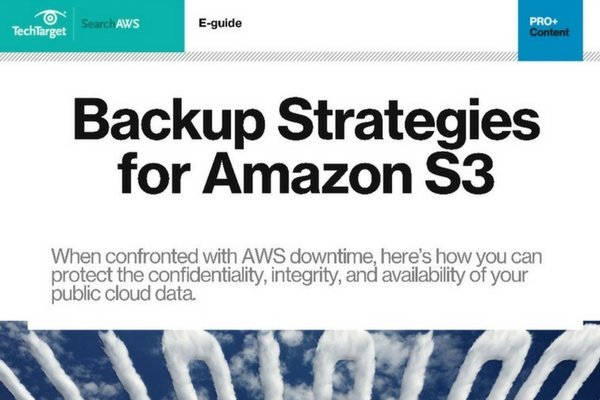 Amazon S3 in the spotlight: Your 34-page backup guide
In this guide curated by the SearchAWS.com editors, you'll evaluate and overcome the DR tradeoffs associated with Amazon S3, with guidance on solidifying an AWS backup plan and securing S3 buckets. Download your copy now.
By submitting your personal information, you agree that TechTarget and its partners may contact you regarding relevant content, products and special offers.
You also agree that your personal information may be transferred and processed in the United States, and that you have read and agree to the Terms of Use and the Privacy Policy.
Vendors package cloud backup offerings in a variety of ways. Traditional vendors are adding cloud as an extension, where they use the cloud to store old backups. New vendors are emerging to provide cloud backup appliances that are installed on-premises and include the backup software. These products use the on-premises appliances to act as a cache -- they send backups to the appliance first before replicating them to the cloud.
With all data centers looking to drive down costs, the most interesting option is free cloud backup services that are often the outgrowth of a consumer backup service. But these services can have strings attached.
Free backup architectures
Most free cloud-based backup services that target the enterprise are software-only. As a result, the organization has to provide its own server to host the on-premises backup software that acts as the caching layer to replicate backup jobs to the cloud.
When doing due diligence around cloud backup offerings, you need to examine total cost of ownership, says Ben Woo, founder of analyst firm Neuralytix Inc.
Alternatively, organizations may have a direct-to-cloud capability that does not require a cache. If this is the case, an agent is installed on each server or client that needs a backup, so data can be sent directly to the cloud. Depending on the vendor, these backups are either managed separately or the vendor provides a scheduler.
Free isn't always free
The reality is that most free cloud backup services are freemium, which means they provide a certain amount of capacity or protect a certain number of servers, but they're not actually free. To get advanced capabilities, like application-aware backups or centralized scheduling, an organization would typically have to upgrade from the freemium model to a paid service. While the freemium model works for personal use, businesses typically want something more.
One advantage of the freemium model is that it allows IT professionals to get a feel for the software, and how difficult it is to learn and use, without paying for it in full or being limited to a 30-day trial.
Freemium limitations
Enterprises that try to stay with a freemium model typically have limited capabilities and support. In most cases, free cloud backup services protect only files -- they do not provide online backup support for applications like Microsoft SQL and Oracle.
The freemium model may limit support to one of two scenarios:
Community support typically provided through forums where users help each other out; and
Email support.
To get advanced capabilities, like application-aware backups or centralized scheduling, an organization would typically have to upgrade from the freemium model to a paid service.
In both cases, the cost is free, but unpredictable. Downsides include the time required to resolve a mission-critical issue and the accuracy of the information. Most enterprises are short on both staff and time.
IT can plan and work around a lack of features. Support is variable: Email response time may be very fast during business hours, but very slow during overnight hours when most backups run. The risk of having a backup job failing and exposing data while waiting for someone to wake up may be reason enough to avoid a free cloud backup service.
Should you roll the dice on a free cloud backup service?
Free cloud backup services look appealing from the outside. But for businesses of almost any size, the limitations in terms of features and support are a problem. From a business perspective, freemiums are fine for initial testing of how applications work and what it is like to use their GUI.
Small businesses that use Web-based accounting, customer and prospect databases, and email applications may find a free backup service to be ideal, since the data will most likely only be on laptops and desktops. Most free cloud backup services do an adequate job of backing up these devices.
It is when a business begins to implement its own applications and servers that freemium tools fall short. Upgrading to premium cloud backup offerings provides direct support of applications like Microsoft SQL and Exchange, as well as local and cloud backups.
In short, as a business creates its own local data not stored in the cloud, it should quickly move from a freemium model to a premium one.