Manage
Learn to apply best practices and optimize your operations.
Top five SMB backup tips of 2011
The editors of SearchSMBStorage.com have compiled this list of five tips to help you develop a data backup strategy that's right for your needs.
Data backup is a complicated issue for organizations of any size, but when it comes to SMBs, there are even more challenges. The editors of SearchSMBStorage.com have compiled this list of five SMB backup tips to help you develop a data backup strategy that's right for your organization. These tips will help you decide between traditional apps or VM backup software, the usefulness of tape backup, selecting the right tape vaulting service, and the pros and cons of removable disk storage.

Download this free guide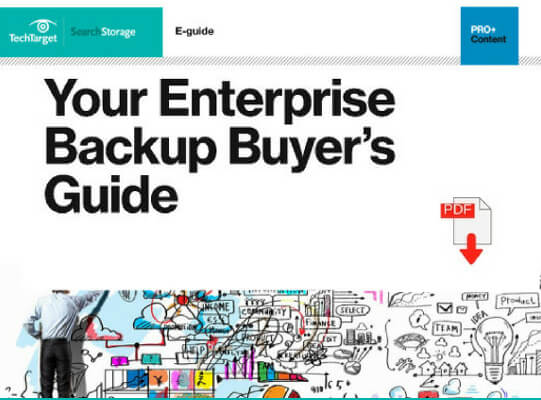 ATTN: Which backup software is right for your business?
"Do I still need an enterprise-level backup software app? How can I prepare for the top challenges I may encounter when buying restore software? Which products should be on my radar?" You'll find the answers to these queries and more, in this free, downloadable PDF.
Tip #1
Choosing a better SMB backup solution
Small- and medium-sized businesses have similar data backup and recovery requirements of large-scale organizations. Of course, any interruption in service can be cataclysmic for an SMB. And since it's particularly crucial for an SMB to protect its system and data assets, you need to know the best approach for your organization. This tip from Lauren Whitehouse looks at the best SMB backup solutions, why SMBs should opt for disk backup as a backup solution, and the vendors and products they have to choose from.
Tip #2
Backing up VMs: Traditional apps vs. virtual machine backup software
If you're among the many organizations which still lean on traditional data backup and recovery software when backing up your virtual machines, there are negatives you'll want to keep in mind along with the benefits you're already experiencing. This tip looks at the most effective means of backing up your VM, whether that involves traditional or new VM backup options.
Tip #3
Tape backup devices still used by majority of SMBs
When Enterprise Strategy Group surveyed 441 data protection professionals, companies with less than 1,000 employees typically used a tape backup system more frequently than those with greater than 1,000 employees (by a 3:2 margin). Indeed, tape backup remains the prevalent option. And, with recent breakthroughs in tape backup like Linear Tape File System and LTO-5, it's easy to see why. But before you adopt a tape backup system for your SMB, check out this tip that looks at tape storage strategy, tape backup encryption, tape media storage (pros and cons), and the impact of LTFS on data archiving.
Tip #4
Offsite backup tape storage and choosing a tape vaulting service
If your SMB is using a tape backup system, it's highly likely that you're also using a tape vaulting service to move those backup tapes offsite. But before you choose a tape vaulting service (or even if you're already using one), you'll want to make sure that vendor is providing you with the level of service and security needed to keep your tapes safe. This tip looks at some questions you must answer when reviewing offsite tape storage service providers.
Tip #5
Removable disk drives vs. tape storage for small businesses
There are real advantages to using removable disk drives, but are they a better option than tape storage for SMBs? This tip examines the pros and cons of removable disk storage, looks at the future of removable disk drives, and much more.