Evaluate
Weigh the pros and cons of technologies, products and projects you are considering.
Understanding your options for virtual tape library solutions
Shopping for virtual tape library solutions can be a challenge thanks to the sheer number of choices available. Learn why in this Brien Posey tip.
Shopping for a virtual tape library can be overwhelming: The sheer number of choices available can make it difficult to make a purchasing decision.

Download this free guide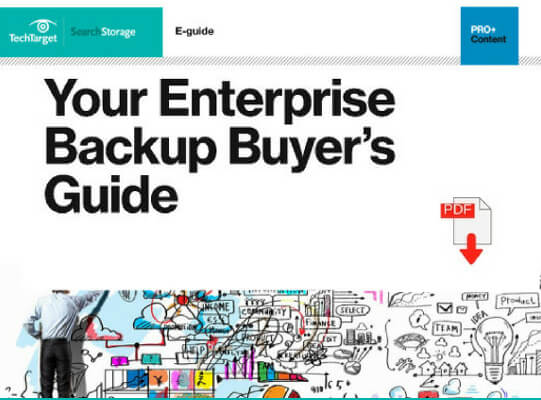 ATTN: Which backup software is right for your business?
"Do I still need an enterprise-level backup software app? How can I prepare for the top challenges I may encounter when buying restore software? Which products should be on my radar?" You'll find the answers to these queries and more, in this free, downloadable PDF.
One of the best ways to narrow down the purchasing decision is to start by determining which general type of virtual tape library will best meet the organization's needs. Virtual tape solutions can be categorized as storage appliances, virtual appliances or gateway appliances.
Storage appliances
Most virtual tape library (VTL) solutions available on the market today can be categorized as storage appliances. At its most basic, a storage appliance is a physical appliance that virtualizes internal disk storage so that it appears as either a tape library or one or more tape drives. Some examples of virtual tape library appliances are Oracle StorageTek appliances and the Model 500M Virtual Tape Library from Hitachi Data Systems.
There are a couple of advantages to using storage appliances. First, because the appliance emulates tape drives or tape libraries, it will work with most backup software. More importantly, storage appliances generally offer faster backup and recovery operations than physical tape drives because disk is a nonlinear storage medium and because the data is typically deduplicated. Another advantage is that because storage appliances are disk-based, an organization can save money on tapes.
The biggest downside of using a storage appliance in place of a physical tape backup is that the virtual tape library solution can become a single point of failure. In order to protect against the loss of the backups that are stored within the appliance, it is necessary to make a copy of the backups. Many organizations use a scheme known as disk-to-disk-to-tape, whereby the virtual tape library's contents are deduplicated and then copied to tape. This approach has the added advantage of allowing copies of the organization's data to be stored off-site, which is important because the disks within a storage appliance are not usually intended to be treated as a removable medium.
In some cases, it is also possible to use redundant storage appliances so that if an appliance fails, a duplicate appliance with duplicate data remains available.
Virtual appliances
A virtual appliance is designed to offer most of the same benefits of a storage appliance, but at a lower cost. Typically, a virtual appliance is sold as a self-contained virtual machine for either VMware or for Hyper-V. Purchasing a virtual appliance saves money because it frees the organization from having to invest in physical hardware. Instead, the virtual appliance uses the virtualization infrastructure's existing storage resources, which are typically SAN-based. Some examples of virtual appliances include the Amazon AWS Storage Gateway and the FalconStor NSS Virtual Appliance.
Although the use of virtual appliances works out really well for some organizations, there are at least two disadvantages of using them. The first disadvantage is that the virtual appliance takes resources away from your server virtualization infrastructure. In some cases, the storage space, memory, CPU cycles and disk I/O are better suited to running production workloads than to handling backups.
The other disadvantage of using virtual appliances is that they typically have a much lower capacity than physical appliances. Physical appliances can usually be purchased with a modest storage capacity, but can be expanded as the organization's storage needs increase. For instance, some virtual tape library appliances can accommodate 4 TB to 68 TB of storage space. In contrast, a virtual appliance's total capacity is limited by the hypervisor. Often, virtual appliances support a maximum of 5 TB of storage.
Gateway appliances
Gateway appliances are virtual tape library solutions that are designed to store data elsewhere. Some gateway appliances make use of an organization's SAN storage rather than offering a significant amount of internal storage. The main advantage to these types of appliances is that they can use your existing storage without being subject to the capacity limitations of a virtual appliance. Furthermore, this type of gateway appliance does not consume host server resources the way a virtual appliance does. A couple of examples of gateway appliances include IBM's TS7650G ProtecTIER Gateway and the FalconStor VTL Gateway Appliance.
Some gateway appliances are known as cloud storage gateways. Not all cloud storage gateways are designed to act as virtual tape libraries, but some are. These types of appliances are very similar to storage appliances in that they contain dedicated internal storage and offer deduplication and encryption capabilities. The difference between a cloud storage gateway and a storage appliance is that cloud storage gateways are able to upload a copy of the data to cloud storage so that a copy of the data remains stored safely off-premises.
Conclusion
One of the first steps in purchasing a virtual tape library solution should be to figure out which general category of appliance best meets the organization's needs. Each type of appliance has significant advantages and disadvantages that must be carefully considered. For example, virtual appliances are typically the least expensive solution, whereas a physical appliance will usually yield the best performance.
About the author:
Brien M. Posey, MCSE, has received Microsoft's MVP award for Exchange Server, Windows Server and Internet Information Server (IIS). Brien has served as CIO for a nationwide chain of hospitals and has been responsible for the Department of Information Management at Fort Knox. You can visit Brien's personal website at www.brienposey.com.
Dig Deeper on Tape backup and tape libraries