Problem solve
Get help with specific problems with your technologies, process and projects.
Unlock the benefits of e-mail archiving
This tip details the many benefits of adding an e-mail archive application to your data center. Some of the instant pluses: faster backups and recovery.
Here is a real-life scenario: Your CFO walks into your office unannounced and unloads some terrible news. Your company is under investigation and is ordered to retain all e-mail messages and a search of all company e-mail is forthcoming. He asks you to make immediate preparations for the search and by the way, this search will not take too long, right?

Download this free guide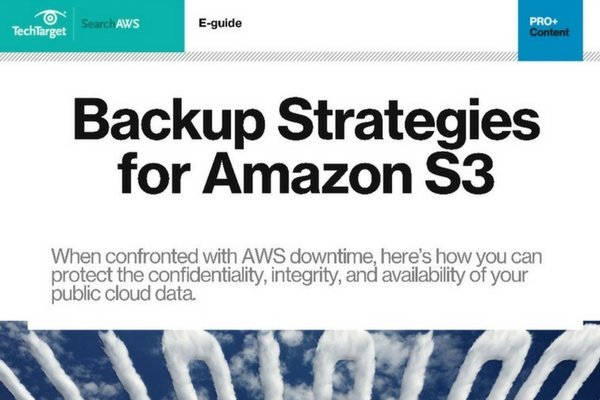 Amazon S3 in the spotlight: Your 34-page backup guide
In this guide curated by the SearchAWS.com editors, you'll evaluate and overcome the DR tradeoffs associated with Amazon S3, with guidance on solidifying an AWS backup plan and securing S3 buckets. Download your copy now.

By submitting your personal information, you agree that TechTarget and its partners may contact you regarding relevant content, products and special offers.

You also agree that your personal information may be transferred and processed in the United States, and that you have read and agree to the Terms of Use and the Privacy Policy.

This scenario is hypothetical but you only have to pick up the Wall Street Journal to see evidence of multiple investigations that involve electronic messaging. Do the names Enron, WorldCom or Tyco sound familiar? The penalties and risks involved are huge and are forcing IT managers like you to consider what their policy is with respect to e-mail archival.

You ask yourself, what can I do? I am already over budget for the year and my staff is working overtime just to keep our e-mail servers up and running. The answer to your dilemma is to consider an e-mail archive application. Before you throw up your hands and say that you cannot afford another new application in your data center, consider the following benefits.

An e-mail archive application stores a duplicate copy of all e-mail messages (and optionally) instant messages in a separate archive. Using full-text search capability, all messages and attachments can be searched quickly and easily. Because the e-mail archive server operates over your LAN using standard e-mail protocols, searches can be performed remotely and results can be packaged and easily shared using PST files. Full-text searching allows for easy search of years worth of e-mail for court ordered searches and legal discovery requests.

Does your company operate in an industry that is highly regulated like financial services, banking, and healthcare or government services? If so, you are probably familiar with the "alphabet soup" of regulatory names such as SEC Rule 17a-4, Sarbanes-Oxley Act of 2002, FDA CFR Part 11, and HIPAA just to name a few. An e-mail archive application protects the integrity of the archive using multiple methods including encryption, hash calculations, WORM media, indexing and auditing. Taken all together, these features protect the data and ensure its integrity and authenticity for the period of time you specify.

How often are you faced with the need to increase the storage capacity of your e-mail servers? How long do your backups take to complete and how long will it take to restore a failed e-mail server? If questions like this are keeping you awake at night, you will be pleased to learn that an e-mail archive application can also improve the management of your current e-mail server environment. The key action that an e-mail archive application performs is to move a copy of an e-mail message body or attachment (or both) to the e-mail archive server storage and leave behind a small pointer. Based on the policies that you set, you can reduce the physical storage capacity of your e-mail servers by up to 90 percent.

Reducing the storage demands on your e-mail servers is key to unlocking some outstanding benefits. Smaller e-mail storage means faster backups, faster recoveries and less downtime. Smaller e-mail storage means more users per server, fewer servers and less cost. You can throw out user mailbox limits and put an end to all those time consuming calls to your helpdesk to increase inbox size. Are you considering migration from Microsoft Exchange 5.5 to 2000? Smaller e-mail servers also mean faster migration.

This all sounds too good to be true, but how can I get the money for this new application when I am already over budget? The answer is ROI. The direct costs of the new application are returned in three years (or less) by the direct savings in e-mail servers, e-mail server storage, administration, and migration costs. If you are using a third-party e-mail archive service, you can eliminate this direct cost as well.

Putting aside these direct cost savings for a moment, consider the cost of a single search of your existing e-mail backup tapes for a court-ordered search. The direct cost of performing a search can run into millions of dollars. Consider the man-hours involved in searching through e-mail tape archives. Microsoft recently had to search through 25,000 tapes in response to a legal discovery request. Consider the potential penalty for non-compliance if your organization fails to save e-mail. The SEC handed out multiple million dollar fines in 2003 to banks for failing to properly save e-mail. The harsh reality is the cost of a single court ordered search or the cost of a single regulatory fine could pay for an e-mail archive application.

This is the time to act. Talk with your in-house legal counsel, compliance officer and records manager about e-mail archive. Remember this is a storage problem and you have the skills and know how to implement an e-mail archive application. The quicker you do, the sooner you will be able to unlock the benefits of e-mail archival.

For more information:

Tip: Is 2004 the year of compliance?

Tip: Important issues to resolve when building an enterprise data archive

Tip: Convince management to spend for Sarbanes-Oxley


---
About the author: Bob Spurzem is with Hitachi Data Systems product marketing and industry solutions division.
Dig Deeper on Archiving and backup