What you need to know about Microsoft Exchange Server backup and recovery
There are a lot of new changes in Microsoft Exchange Server 2010. In this tip, discover what you need to know about Microsoft Exchange Server backup and recovery.
Part of the planning process for a Microsoft Exchange 2010 migration is figuring out how you are going to back up your Exchange 2010 servers. Contrary to what you might expect, the data backup and recovery software that you may be using to back up Exchange 2007 probably isn't going to work with Exchange 2010 without being retrofitted or getting an update (if available) from your backup software vendor. In creating Exchange 2010, Microsoft has made some major architectural changes to the Exchange Server databases. These changes have major implications for Microsoft Exchange Server backup.
Say goodbye to streaming backups
Every previous version of Exchange Server supported streaming backups. However, Microsoft did away with streaming backups in Exchange 2010 in favor of Volume Shadow Copy Service (VSS) backups.
One of the biggest complaints about Exchange Server 2007 was that although Microsoft encouraged the use of VSS backups, Windows Server Backup was not capable of making a VSS backup of Exchange. Microsoft finally got around providing these capabilities in Exchange Server 2007 SP2. I am happy to say that Exchange Server 2010 also provides you with the ability to make VSS backups through Windows Server Backup.
Storage groups
If you are currently using a third-party backup application to make VSS backups of your mailbox servers, you may be wondering why you can't continue to do so for your Exchange 2010 servers. The answer has to do with some of the architectural changes that Microsoft has made to mailbox databases in Exchange 2010.
In Exchange Server 2007, mailbox databases resided within a structure called a storage group. All of the databases within a storage group shared a common set of transaction logs. While the use of storage groups certainly has its place, experience has shown that sharing transaction logs among multiple databases can greatly complicate recovery efforts if you only want to restore a single database that is in a multi database storage group. The use of storage groups also complicates many of the clustering and high availability scenarios. That being the case, Microsoft decided to abandon storage groups in Exchange 2010.
To see how Exchange 2010 differs from Exchange 2007, take a look at "Figure A: Storage groups" (click on image below for full size). This figure contains a screen capture of the Exchange 2007 management console. I have selected one of my mailbox servers from the upper portion of the console's center pane. The lower pane shows that the server contains a single storage group, and that there is a single database within that storage group.
Figure A: Storage groups
Exchange 2007 made use of storage groups.
Now take a look at "Figure B: Exchange 2010 backups" (click on image below for full size). I have navigated to exactly the same location within the console, but this time I am using Exchange 2010. Notice that the lower portion of the console's center pane does not list any storage groups. Instead, it simply shows you which databases reside on the selected server.
Figure B: Exchange 2010 Backups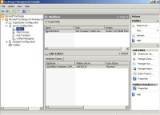 Storage groups do not exist in Exchange Server 2010.
The fact that Microsoft has done away with storage groups in Exchange 2010 not only changes the way that mailbox data must be backed up, it also changes the way that data must be restored.
In an Exchange Server organization, it is rare to have to restore an entire mailbox database. Most of the time, restore operations consist of restoring a single mailbox. Exchange 2007 doesn't provide you with a direct method of performing brick-level restorations of individual mailboxes. If you want to restore a mailbox, you have to create a recovery storage group, and restore your mailbox database to it. That way, you can restore the database without overwriting the production database. Once the restoration is complete, you can extract the data that you are interested in from the recovery storage group, and copy it to the production database.
Restore operations work similarly in Exchange 2010 aside from one minor detail. Since storage groups no longer exist, it means that recovery storage groups don't exist either. Microsoft has replaced recovery storage groups with recovery databases. Recovery databases work in much the same way as recovery storage groups did.
In Exchange 2007, you could create a recovery storage group through the Exchange Management Console, and use the console to interact with the recovery storage group. In Exchange 2010, you can only create a recovery storage group from the command line. The command for doing so is:
New-MailboxDatabase –Recovery –Name -Server
Exchange allows you to create as many recovery databases as you want. The only limitation is that only one recovery database can be mounted at a time. As you can see, Microsoft has made a lot of changes to the way that mailbox databases work in Exchange 2010. While it may be possible to continue using your existing backup software after an upgrade to Exchange 2010, you will likely have to either patch the backup application or upgrade to a newer version.
About the author: Brien M. Posey, MCSE, has previously received Microsoft's MVP award for Exchange Server, Windows Server and Internet Information Server (IIS). Brien has served as CIO for a nationwide chain of hospitals and was once responsible for the Department of Information Management at Fort Knox.