A tutorial on remote data backup technology
Remote backup is one of the hottest topics in data backup today. Learn about remote-office backup software, WAN optimization, data dedupe and online backup, and backup trends.
Jim Rose, systems administration manager for the State of Indiana's Office of Technology in Indianapolis was having remote-office backup problems. These problems included not having trained IT personnel in each location, troubles with tape-based backups, and unwieldy communications between remote offices and headquarters.

Download this free guide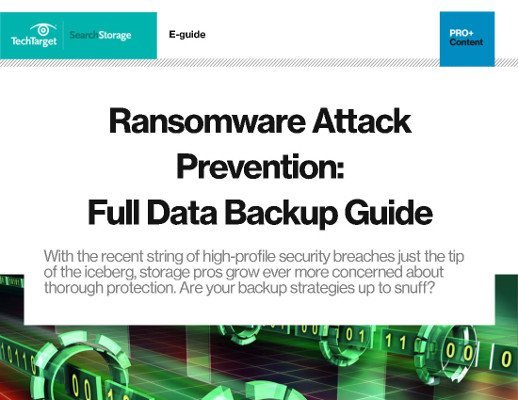 SearchStorage writers evaluate backup's role in ransomware detection
WannaCry, NotPetya, the list of dangerous ransomware viruses goes on and on, well beyond the most highly-publicized attacks. Use this guide to learn about the extent of the threat posed by ransomware, and bolster protection of your data, apps, and systems by using the backup strategies detailed within.
Rose had 250 remote offices distributed throughout Indiana that needed to be backed up. Most of the offices had local tape and many of them didn't have IT support. The remote offices also relied on T1 lines for communication with Indianapolis.
"If there was a disaster, the remote offices lost all their data," says Rose. "We were looking for a product that could do network-based, tapeless backup and deduplication of data so it could run efficiently and reliably over T1 lines." Rose chose Symantec Corp.'s Veritas NetBackup PureDisk.
"Now, recovering a server takes less than 30 minutes to an hour," says Rose. "Prior to that, we had to have local staff load tapes, inventory the tapes and then do the restore. We were looking at multiple hours, not only for the user to get their file back, but also for administrator time to facilitate all that stuff."
Including remote offices in your backup plans can be accomplished in a number of ways.
Remote-office backup software
Consider software that backs up remote offices. Products such as EMC Corp.'s NetWorker, Robobak and Symantec's Veritas NetBackup PureDisk back up data to the central office by placing agents on target servers in remote locations. They eliminate tape drives and media and the worries of having trained IT personnel in the remote office.
Editor's tip: Read more about one law firm used remote-office backup software successfully.
WAN optimization and WAFS
Look at WAN optimization and wide-area file services (WAFS) products, which create links between a remote office and the central location. With WAN optimization and WAFS products such as those from Blue Coat Systems Inc., Cisco Systems Inc. or Riverbed Technology Inc., WAN latency in transferring files and users can have LAN-like access to their files. All remote-office data is consolidated onto file servers located centrally and a copy of all files generated in the branch is moved in real time to the data center.
Editor's tip: Read more about what WAN optimization is and how it's accomplished.
New data backup options for remote sites
The typical remote site for most enterprises isn't much different from the core site of an SMB. The number of servers requiring backup is usually fewer than 50, data is predominantly files and email, WAN bandwidth is often expensive and limited, and few if any sites have dedicated staff for backup administration. But data backup as we know it (servers, disk and tape) is changing significantly, and remote sites are the first to benefit.
Editor's tip: Read more about new backup options for remote sites.
Remote-office and online data backup news
Remote-office backup and online backup has been in the news a lot these days, with many new product and technology announcements. Barracuda Networks recently acquired BitLeap, a provider of local and offsite data backup and disaster recovery solutions.
Overland Storage Inc. recently unveiled a replication appliance called REO Compass that will deduplicate and replicate virtual or physical tape images and allow them to be tracked using Symantec Corp.'s Backup Exec catalog. REO Compass is a 1U or 2U appliance that uses hashing keys to compare data at both ends of the wire. It then sends only new blocks from remote offices to a central data center for backup, keeping data synced and deduplicated across Overland virtual and physical tape libraries at multiple locations.
Read the latest remote backup/data protection news.
Dig Deeper on Remote data protection