Manage
Learn to apply best practices and optimize your operations.
Data backup and recovery software best practices: A tutorial
Learn about data backup and recovery software best practices in our collection of tutorials. Learn EMC NetWorker, Symantec Veritas NetBackup and Backup Exec, IBM Tivoli Storage Manager, Linux, and open-source data backup best practices.
Whether you're using EMC NetWorker, IBM Tivoli Storage Manager, Linux, Symantec NetBackup or Backup Exec, or even open-source software to back up your data, there are times when you're going to run into performance issues. We've compiled our best tips on troubleshooting data backup software in this tutorial.

Download this free guide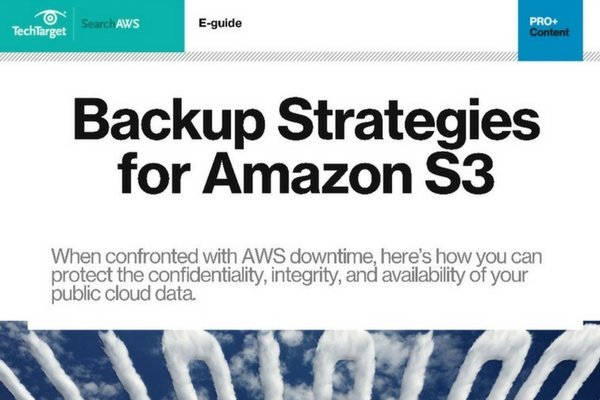 Amazon S3 in the spotlight: Your 34-page backup guide
In this guide curated by the SearchAWS.com editors, you'll evaluate and overcome the DR tradeoffs associated with Amazon S3, with guidance on solidifying an AWS backup plan and securing S3 buckets. Download your copy now.
Data backup and recovery software best practices: Table of contents

EMC NetWorker backup best practices


IBM Tivoli Storage Manager


Linux data backup and recovery


Symantec Veritas NetBackup


Symantec Backup Exec


Open-source and free data backup software

Any time that you are going to be deploying a new backup product, there is a lot to consider. In this article, learn architectural best practices for using EMC Corp. NetWorker to back up your network servers.
There are many aspects to consider when deploying an IBM Tivoli Storage Manager (TSM) data backup environment. Beyond the basic requirements common to most data backup products such as recovery requirements (recovery time objective and recovery point objective), network bandwidth, capacity, etc., some requirements are Tivoli Storage Manager-specific due to its architecture. Learn about generally accepted Tivoli Storage Manager backup best practices in this article.

IBM TIVOLI STORAGE MANAGER VS. TRADITIONAL BACKUP
Learn about the architectural concepts behind IBM's Tivoli Storage Manager backup software and the main differences with what are often referred to as "traditional" backup products in this article on IBM Tivoli Storage Manager vs. traditional backup.

LINUX DATA BACKUP AND RECOVERY STRATEGIES
Linux data backup products are adding new capabilities and becoming even more mainstream. Here's a look at some popular Linux backup apps, and some Linux data backup and recovery tips. Learn about Linux backup and recovery strategiesin this article.
Symantec Corp. Veritas NetBackup is an enterprise-level data backup application used in some of the world's largest companies. Unfortunately, with such power comes great complexity. With complexity comes choices, and that usually means that there is a good choice and a bad choice. This is the first in a multipart series about Veritas NetBackup best practices to help you make the right choices for your data backup system. Learn about NetBackup best practices from backup and recovery expert W. Curtis Preston in this article.
Symantec's Backup Exec is a popular data backup program for desktop and networked storage systems. However, as with any software, there are things that can be set incorrectly or things that can go wrong that will slow performance. In the case of a backup program, a slipup can significantly increase the time it takes to complete your backup jobs. If you're using Backup Exec and your performance isn't what it should be, some troubleshooting may be in order. Here's our Backup Exec best practices.

FREE AND OPEN-SOURCE DATA BACKUP SOFTWARE
Data backup/storage administrators facing budgeting issues may want to consider open-source and free data backup and recovery software. This article reviews some popular free and open-source data backup utilities.
Dig Deeper on Backup and recovery software