Data backup security tutorial
Data backups are an essential element of good storage security, but they're often the source of security woes. Here's a step-by-step guide on how to ensure your backups are secure.
Data backups are an essential element of good data storage security, but they're often the source of security woes. In fact, a significant percentage of security breaches can be attributed to the mismanagement and mishandling of data backups.

Download this free guide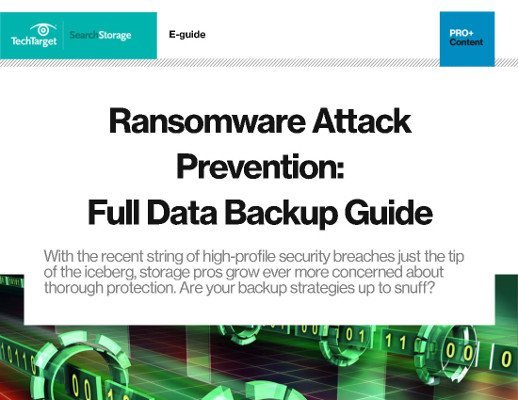 SearchStorage writers evaluate backup's role in ransomware detection
WannaCry, NotPetya, the list of dangerous ransomware viruses goes on and on, well beyond the most highly-publicized attacks. Use this guide to learn about the extent of the threat posed by ransomware, and bolster protection of your data, apps, and systems by using the backup strategies detailed within.
Many backup gurus say that a good process for replicating sensitive data is all that's needed to keep the organization secure. But that's really only half the battle. In our data backup security tutorial, learn how to make your backups more secure.
>> Data encryption: Stories from the trenches
>> Encryption's impact on network backup
>> Where should you encrypt your data?
>> Tape drive encryption options
>> Data protection for financial organizations
>> Deleting old data
>> Backup security news and tips

Data encryption: Stories from the trenches
Data encryption is becoming a necessity in backup software. Two users -- one a manager for a financial institution and the other an IT manager for a university -- recently related their tales to SearchDataBackup. Here's what Robert Stephenson, IT manager for Lewiston State Bank in Utah, and Corey Grone, IT manager at the University of Pittsburg in Pennsylvania, had to say about their data encryption experiences.
Encryption's impact on network backup
There are three ways to encrypt tape-based backup data: host-based encryption, appliance-based encryption and tape drive (endpoint) encryption. There are advantages and disadvantages to each encryption method, experts say, starting with significant impact on the performance of the backup process itself. Read about how encryption can impact your network backup.
Where should you encrypt your data?
There are many choices when it comes to tape encryption, so picking what's best for your organization can be challenging.
Jon Oltsik, a senior analyst at the Enterprise Strategy Group, Milford, Mass., says tape encryption today is mostly done in appliances, with Decru Inc. (a division of NetApp Inc.) boasting one of the most substantial customer lists. Other companies with tape encryption appliances include Bosanova Inc. with its Q3, CipherMax Inc. CM100T and Vormetric Inc. CoreGuard. However, he notes, "I see this migrating to the tape drives themselves over time as customers implement new drives and libraries."
Read this article to help you decide where to encrypt your data.
There are currently four tape drive formats and four manufacturers that offer encryption on the drive. The formats include LTO-4, which is manufactured by Hewlett-Packard (HP) Co., IBM Corp. and Quantum Corp., and three mainframe formats. For mainframe and open-systems environments, IBM offers the TS1120/TS1130 and Sun Microsystems Inc. offers the StorageTek T9840D and T10000A/B format drives. The six tape drives that support encryption have many similarities, and some significant differences.
Many users have been reluctant to implement encryption due to concerns around key management, standards, and the availability of solutions in the future. These are all valid concerns, however, these barriers may be overcome, and it often requires working with a trusted partner to implement a corporate security and encryption strategy. Read more key management and tape drive encryption options.
Data protection for financial organizations
Protecting data is especially important for financial services institutions deluged with a large amount of sensitive personal information. Storage administrators must adopt a multifaceted approach to protecting their data and the business-critical apps running on the servers in their networks. Here are five things financial organizations can do to better protect their data.
While the ability to clearly establish what data end-of-life really means is still a challenge for most companies, exploding data growth has resulted in corporate policies regarding data storage and retention. Most policies have been driven or imposed by legislation and regulations such as HIPAA, the Sarbanes-Oxley Act and other federal and state compliance requirements. It's often assumed that once data has been marked for disposal, it no longer requires much attention. But when data backups or archives are deleted, are they really gone? Read this article to find out the right way to safely delete old data.
Backup security news and advice
Storage administrators are increasingly relying on tape encryption and other security technologies to guard sensitive data. Bookmark our special section on backup security news and tips to stay up to date on the latest technologies.
Dig Deeper on Data backup security