Disk-based data backup and recovery tutorial
Will 2009 be the year you embrace disk-based backup and recovery? We have the latest disk-based backup and recovery advice, tips and news in this tutorial on disk-based backup.
Will 2009 be the year you embrace disk-based data backup and recovery? Respondents of Storage magazine's 2009 Storage Priorities survey said the average amount of disk capacity they expect to add next year is 39 TB.

Download this free guide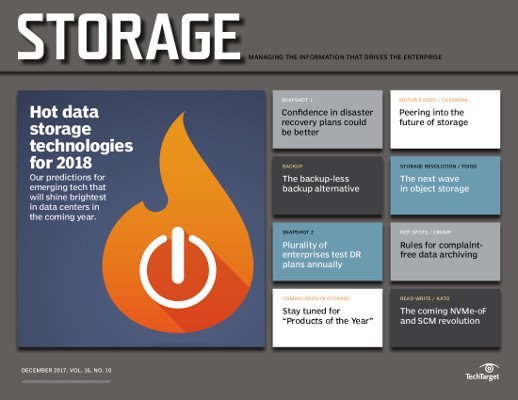 Snapshot of top 2018 backup tech: CDM, complaint-free archiving, ransomware detection vendors
The SearchStorage.com team names the most promising ransomware detection products, 4 rules for complaint-free archiving, how to use copy data management for effective recovery, and more. Download your e-zine copy here.
By submitting your personal information, you agree that TechTarget and its partners may contact you regarding relevant content, products and special offers.
You also agree that your personal information may be transferred and processed in the United States, and that you have read and agree to the Terms of Use and the Privacy Policy.
In a tough economy, storage administrators looking to stretch storage budgets are doing so by implementing disk-based backup technologies like virtual tape libraries and data deduplication. This disk-based backup and recovery tutorial takes a look at disk-based backup's evolution over the past few years and offers a roundup of recent disk backup news and expert advice.
Table of contents


Disk-based backup in 2009


Migrating from tape to disk


Virtual tape libraries


Data deduplication


Disk-based backup advice and tips


Disk backup news

2009 is going to be a tough year for IT, but disk sales are expected to grow, according to IDC. IDC predicts that shipments of external disk system terabytes will increase at a rate of 60% from 2004 to 2009 and that revenue will increase from $22.6 billion in 2004 to $26.3 billion in 2009. For a look at this year's most important disk-based backup and recovery trends, read this article.
There are many things to consider before you migrate from disk to tape. But have you really considered all of the implications of this technological change? You first need to analyze the advantages and disadvantages of disk-based backup to help you decide if it's worth it for you to transition from tape to disk. Read this article for a step-by-step explanation of migrating from tape to disk.
Virtual tape libraries for backup and recovery
Virtual tape libraries (VTLs) can improve your backup and recovery speeds and increase data availability while reducing data protection costs. VTLs are implemented either via software- or software-based appliances by vendors like FalconStor, IBM Corp. and Sepaton Inc. But a VTL is a major investment. Here are 10 questions to ask a potential vendor to help you decide which VTL is right for you.
Data deduplication was one of this year's hottest backup and recovery trends. Record sales were reported for data deduplication products. Lauren Whitehouse, an analyst at the Enterprise Strategy Group discusses the differences between block-level versus byte-level dedupe in this column.
Do you want to know how to speed up disk-based backups, the real differences in VTLs or the cost of tape versus disk? Bookmark our special section on disk backup tips and how-to articles to stay up to date on the latest technologies.
There were several new product developments in disk-based backup in latter half of 2009. FalconStor rolled out a NAS interface for data deduplication; NetApp released its long-awaited VTL data deduplication; and Symantec and CommVault connected backup software to Dell's MD1000i hardware to create Dell's first disk-to-disk backup appliance. Check out our disk-based data backup and recovery news section. Bookmark this page to stay up to date on the latest product announcements, case studies, trends and more.
Dig Deeper on Disk-based backup