Virtual server backup best practices: An essential guide to server virtualization and data backup
This Essential Guide offers a collection of tips, tools and techniques that you can use to back up your virtual servers more efficiently. Discover virtual server backup best practices.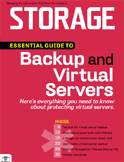 Server virtualization technology has had an enormous impact in data centers by advancing server consolidation at a pace never seen before. Organizations of all sizes have slashed the number of physical servers they need, allowing them to trim costs, cut complexity, and reduce power and space requirements. But while they make a lot of IT chores easier, virtual servers make one key task a lot harder: data backup and recovery.
Traditional data backup and recovery software tends to be oriented toward physical server environments and, as such, might not be appropriate or the most efficient means for backing up virtual machines. While stuffing many virtual servers into one physical server yields consolidation benefits, it also concentrates backup operations onto a single physical platform, leading to overtaxed processors and I/O systems.
VMware Inc. and other virtual server vendors have made strides in addressing the data backup issue but, as yet, none offers a complete solution. Similarly, backup app vendors have adapted their products to be better virtual world citizens, but gaps remain. And a handful of specialized apps -- built from the ground up to protect data in virtual server environments -- are gaining a lot of attention, but they, too, don't always offer the comprehensive data protection required in enterprise data centers.
In some cases, backing up virtual machines in a manner that allows bare-metal restores makes restoring individual files a lot harder. And the reverse may be true, too: The convenience of quick file recoveries may mean giving up full machine restores that can greatly facilitate disaster recovery.
With a perfect solution yet to arise, storage managers aren't without options -- from using traditional backup apps to cobbling together combinations of all of the above. For a while, at least, it doesn't look like virtual server backup will be a set-it-and-forget-it affair, so some tinkering and adjustment of backup operations and processes will be required.
This Essential Guide offers a collection of tips, tools and techniques that you can use to back up your virtual servers more efficiently. Discover virtual server backup best practices. Find out about the intricacies of using VMware's Consolidate Backup (VCB) application, get tips on how to fine-tune your current backup app for virtual servers, and read about the most common problems and solutions you're likely to encounter.

VIRTUAL SERVER BACKUP TABLE OF CONTENTS:
Virtual server backup tips: Server virtualization is supposed to simplify IT, and it does, except for one little caveat: It currently complicates backup and recovery. Companies quickly discover they can back up their virtual servers the same way they do their physical servers, but they may not get the same results. There are three main ways to back up virtual servers. Here's how to determine which method is best for your enterprise data storage requirements.
Data backup applications and VMware: Server virtualization has changed the way we back up and restore data. You can still use traditional backup methods for virtual machines by using a backup agent on each virtual machine, but there are more efficient methods. Most data backup software vendors have adapted their software to better integrate with virtual server environments. And VMware Inc.'s VMware Consolidated Backup (VCB) technology allows backup vendors to easily integrate their applications into the VMware Infrastructure. While improving backup efficiency is important, performing whole virtual machine and individual file restores easily and quickly is equally important. We'll look at the major data backup applications to see how well they integrate with VMware in this article.
The keys to unlocking VMware Consolidate Backup: Although VMware Inc. vSphere 4 includes the VMware Data Recovery package, according to the company, it isn't a replacement for VMware Consolidated Backup (VCB). Customers using VCB will likely use it as a backup solution until a later generation of VMware vSphere comes along. But even before vSphere, VCB was often misunderstood; it requires preparation and understanding for data backup administrators used to traditional physical enterprise backup. Learn these five principals that underpin VMware Consolidated Backup before you use it in your data center.
Virtual server backup -- your most important questions answered: How much are virtualized server environments affecting backup processes? Mark Bowker, an analyst at Milford, Mass.-based Enterprise Strategy Group, answers the most common questions about virtual server backup from data backup administrators.
Storage Channel Perspective: VMware backup and recovery best practices: While many customers are rushing to implement server virtualization projects with VMware Inc.'s ESX Server, very few are giving serious thought ahead of time regarding data protection and their new virtual servers. This oversight means that a lot of your customers have unanswered questions about the best backup method for their environment or may have taken a step in one direction only to learn it was the wrong one. To avoid some of these problems, find out what the options are for VMware backup in this storage channel perspective article, and how to decide which is best for a particular customer.
Click here to download the Virtual server backup essential guide.