Veeam Availability Suite v8
Veeam Availability Suite v8 offers several key backup software components in one package, including Veeam Cloud Connect, Snapshot Hunter and WAN acceleration for VM replication.
Gold winner in the Storage magazine/SearchStorage.com 2015 Products of the Year Backup and Disaster Recovery Software and Services category.
Veeam Availability Suite v8 offers the company's virtual server backup software and its Veeam ONE monitoring software in a single platform and introduces more than 200 new features and enhancements.
Highlights include Veeam Cloud Connect, integration with NetApp and built-in WAN acceleration for VM replication. Veeam Availability Suite v8 leverages virtualization, storage and cloud technologies to deliver recovery time objectives of less than 15 minutes.
The software provides 24/7 data center availability. Veeam Cloud Connect gives Veeam partners a platform that lets them offer backup hosting as a service to Veeam's customer base. Backup I/O Control ensures a production workload's availability by controlling the impact of backup and replication jobs on production VMs. Snapshot Hunter detects and automatically consolidates hidden and stuck VM snapshots, preventing data stores from overfilling with snapshot files and stopping production VMs.
Veeam ONE is a monitoring, reporting and capacity planning tool for VMware vSphere, Microsoft Hyper-V and the Veeam backup infrastructure. It provides complete visibility of the IT environment to detect issues before they impact operations.
Veeam Availability Suite v8 works with whatever production and backup storage is in place, providing the freedom to change storage providers over time or use a mix, according to the company. Veeam also integrates with storage products from Hewlett Packard Enterprise, EMC and NetApp to provide both advanced snapshot support functionality and backup storage integration.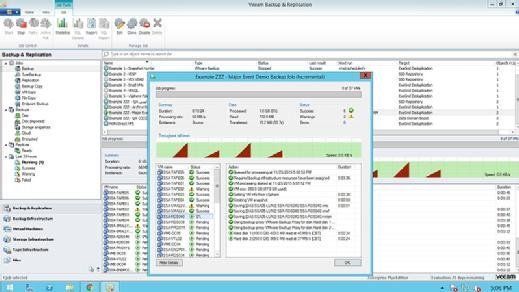 One judge called Veeam Availability Suite v8 a "solid update that solves other VM data protection problems" and continues to raise the bar with functions such as the backup hunter, backup throttling, WAN acceleration and more. Another judge noted that "customers seem to be very happy."
The Veeam Availability Suite v8 standard edition costs $1,100 per socket, and requires a Microsoft Hyper-V or VMware vSphere environment and a Windows-based server. Veeam does not charge per terabyte, for application support, or for any of its product components, which are unlimited for users.